Bangalore gets its own metro service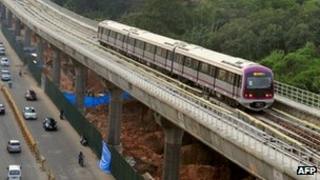 A long-awaited metro rail service has been launched in the southern city of Bangalore, India's technology hub.
The 6.7-km (4.1-mile) stretch of elevated track has six stations and connects MG Road in the centre with Baiyappanahalli Terminal in the east.
The journey through the business district takes 14-minutes - it is hoped the metro will ease traffic congestion.
The first section of the metro is part of a proposed 42km (26-mile) network which is due to be completed by 2014.
The Namma (Our) Metro was inaugurated on Thursday by India's Minister for Urban Development Kamal Nath.
An excited Karnataka state Chief Minister Sadananda Gowda described the service as a "Diwali gift" to Bangalore, home to nearly 8.5 million people and over four million vehicles.
Diwali, the festival of lights, will be celebrated across India next week.
'Excitement'
People in the city welcomed the new rail system.
"It should do a lot of good for Bangalore," said Thahir, a software engineer for Apple on a holiday to his home city.
He said he and his friends planned to take the metro to meet for a party.
"There is excitement all around but this should have happened a decade ago," said Suresh, a businessman operating near the fashionable MG road station, the venue of the metro inauguration.
But one senior journalist, Karthik Subbaraman, pointed out: "It is a good first step but the Bangalore metro has to establish its credibility by finishing the rest of the project on schedule."
Officials say the new metro line will be able to carry 30,000 passengers a day with fares ranging between 10 rupees (13 pence; 20 cents) and 15 rupees (19 pence; 30 cents).
Bangalore's metro was planned in 2003 and work began on it in 2006.
The city, home to more than 1,500 multinational software companies, is an information technology hub and is often referred to as the Silicon Valley of India.
But bad roads and traffic jams have marred the image of Bangalore.
The city's best-known corporate personalities - NR Narayana Murthy and Azim Premji - have in the past complained that Bangalore's infrastructure is failing to keep pace with its rapid pace of growth due to bad planning.