India 'paid news' lawmaker disqualified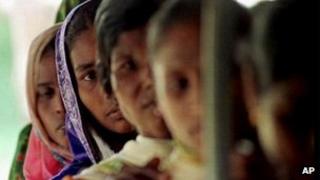 India's Election Commission has for the first time disqualified a legislator for not disclosing expenses spent on favourable media coverage during an election in 2007.
Umlesh Yadav has been barred from contesting polls for three years.
She is accused of not disclosing money spent on "advertisements masquerading as news" in two newspapers.
The controversial issue of politicians paying for favourable media coverage has come to be known as "paid news".
Correspondents say it has also dented the image of several large media houses.
A Press Council of India report cites several examples of politicians paying newspapers and television channels to buy positive coverage of their campaigns.
Mrs Yadav, wife of businessman and politician DP Yadav, is a politician in the northern state of Uttar Pradesh.
She was a candidate for her husband's party, the Rashtriya Parivartan Dal, and elected from Bisauli assembly constituency.
The Election Commission also found Mrs Yadav guilty of exceeding the limit of campaign expenses.
A candidate is not allowed to spend more than 1m rupees ($20,000; £12,600) on campaigning.