Six Indian policemen 'killed in Maoist ambush'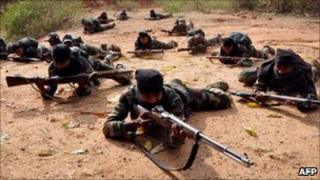 At least six policemen are feared dead after Maoist insurgents launched an attack in the eastern Indian state of Chhattisgarh, reports say.
Another four were injured when rebels ambushed the police team near Netanar forest in the restive Bastar district.
One journalist who was at the scene told the BBC he saw several bodies. The police are yet to release an official statement.
Rebels say they fight for the rights of tribal people and the rural poor.
The Maoists are active in several eastern and central states. In one of the most deadly attacks in Chhattisgarh last year, they killed 74 policemen in Dantewada district.
"It could have been a trap. The Maoists demolished a forest rest house knowing that the police will come to the spot after the incident," one counter-insurgency officer told the BBC's Salman Ravi.
A government offensive against the rebels - widely referred to as Operation Green Hunt - began in late 2009.
It involves 50,000 troops and is taking place across five states - West Bengal, Jharkhand, Bihar, Orissa and Chhattisgarh.