Bid to save home of Bengali magic legend PC Sorcar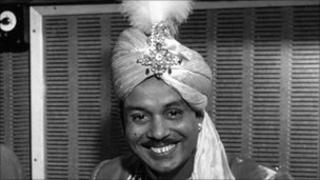 Magicians in Bangladesh are up in arms against a decision to demolish the ancestral home of legendary Indian magician PC Sorcar.
They have been holding protests demanding that the government protect the house, turn it into a museum and establish a school of magic there.
They say this would be a fitting tribute to one of the greatest magicians of all time.
PC Sorcar died of heart attack while performing in Japan in 1971.
His ancestral home used to be known as Jadu Bhaban in Bengali, meaning a magic house. That magic house is about to disappear - not by any trick, but because developers want to build a block of flats in its place.
PC Sorcar was born there about 100 years ago, in what was then British India.
When the sub-continent was divided into India, Pakistan and East Pakistan - which was later to become Bangladesh - Sorcar's family left for India.
Family tradition
It is a part of the country's cultural heritage, says prominent magician Moinul Khan.
"We are proud of this man, he had a vision to make an institute of conjury," he said. "So we want to protect this house so we can make an institute over there and we can promote the magic."
Magicians have also been gathering support for their campaign by holding magic shows around Bangladesh.
Sorcar, considered the father of modern Indian magic, was a seventh-generation magician.
He was known for his spectacular stage sets and costumes, particularly his "Maharaja robe" and plumed turban.
Some of his specialities included the famous Indian rope trick and the flying carpet.
His son PC Sorcar Jr is continuing the family tradition.