Afghan conflict: Militants attack Kandahar PRT compound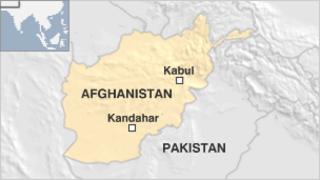 A small group of militants has launched an attack on a compound housing Western officials and military personnel in the Afghan city of Kandahar.
Police said three or four militants had attacked the base of the Provincial Reconstruction Team (PRT). Witnesses said they had heard five explosions.
A Nato spokesman said none of their personnel had been killed.
The Taliban said their fighters were carrying out the attack, but their claim could not be verified.
A Kandahar police spokesman told the BBC that a minibus and two motorcycles had been discovered nearby, packed with explosives.
He said police were currently trying to disarm them.