Thailand flood: 'Making survival packs'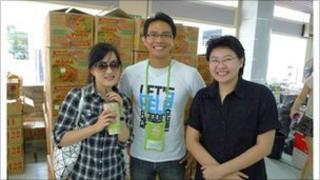 Thailand is continuing to battle its worst flooding in decades. More than 360 people have died in flooding triggered by unusually heavy seasonal rains across the country since July.
About one third of all Thailand's provinces remain affected, while the capital, Bangkok, is now braced for severe flooding.
Rungsun Munkong is an assistant director at the Thai Health Promotion Foundation and is currently the centre coordinator for the Baan Arsa Jaidee flood relief centre, which is staffed mainly by volunteers. He spoke to the BBC News website about the centre and its operation.
"Water is now surrounding Bangkok and it's a high water flood, so we think it could be the worst one in our history.
"Our centre has been open for two weeks. The first week we were helping people in the north who are already affected by flooding, but now we are thinking about how we can help people in Bangkok.
"Currently we're making survival packs - packs or bags - that have basic foods such as uncooked rice, instant noodles and fresh water.
'Really worried'
"They also contain tissues, basic medication and some candles and lighters in case electricity is disconnected.
"What we have done so far is transport our survival packs to flood hit areas where they help people for a few days.
"But people need more than that. We're worried the floods will last several months and the help we can provide will be too little.
"As well as the survival packs we also have training and workshops for Bangkok volunteers.
"We have about 200 to 300 people per day and we teach them how to make tools to help in the floods - for example, life vests from used plastic bottles and rafts made from PVC tubes and plastic bottles.
"We also give them some emergency tips for making drinking water safe. Essentially we hope to help people prepare for the flood.
"So far we have sent things we have made to the affected provinces, but we hope the people of Bangkok will also be able to learn skills that will help them survive if the floods get really bad here."