Azim Premji launches attack on India leadership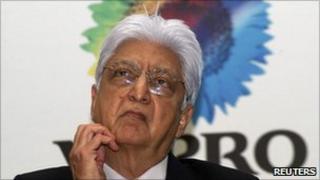 One of India's most respected businessmen has attacked the government, saying officials have failed to provide leadership at a time of growing concern over the economy.
Azim Premji, the chairman of the IT firm Wipro, warned that if prompt action was not taken, India would face a serious setback.
The billionaire is an increasingly outspoken critic of the government.
He said there was a complete absence of decision-making among leaders.
Mr Premji is a man India listens to. Chief of Wipro, one of the country's largest IT firms, he is also a prominent philanthropist.
In this latest attack, he warned that people needed to appreciate how serious the situation was.
It is 20 years since India launched its successful economic reform programme, but Mr Premji is not the only one who now thinks that a new wave of reforms is essential if high growth rates are to be maintained.
India is still one of the hardest places in the world in which to start up a new business, the law courts are slow and inefficient, and corruption exists at all levels.
Last month Mr Premji was among a group of businessmen who wrote an open letter to the prime minister, urging him to put the government on a war footing to tackle this major problem.