Defendants get bail in India 'cash for votes' scandal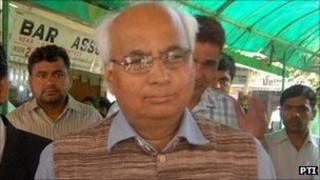 A former aide of top opposition leader LK Advani is among five people who have been granted bail in connection with an alleged cash-for-votes scandal.
Sudheendra Kulkarni was among those who won bail on Wednesday along with two former MPs of the opposition Bharatiya Janata Party (BJP).
Last month, MP Amar Singh, accused of offering cash to other MPs to abstain from a 2008 confidence vote, won bail.
All the men deny any wrongdoing. The government survived the vote.
Mr Kulkarni is alleged to have masterminded the operation. He worked for Mr Advani at the time of the vote.
He said that he was "a whistle blower" whose true intention was to expose corruption.
Police allege that Mr Kulkarni approached Mr Singh's Samajwadi Party - an ally of the Congress-led government at the time of the vote - to offer bribes to BJP MPs.
He then got a television channel to secretly film the alleged bribe being offered in order to discredit the government, police allege.
BJP members Faggan Singh Kulaste and Mahavir Bhagora waved wads of money in the air in parliament at the time of the debate, alleging that they had been offered bribes to abstain.
Amar Singh - a member of the Rajya Sabha or upper house of the Indian parliament - was arrested on 6 September along with Mr Kulaste and Mr Bhagora.
The former BJP lawmakers were accused of accepting the bribe money. Both men have denied the charge. They were among those granted bail on Wednesday.
The court also freed on bail Sanjeev Saxena and Sohail Hindustani - the alleged middlemen who were the first people to be arrested in connection with the scandal.
The government survived the July 2008 vote. If it had been lost, India would have faced early elections.
The scandal resurfaced in March when a leaked US diplomatic cable obtained by the Wikileaks website said the Congress party had bribed MPs to vote in favour of a nuclear deal with the US.
The cable alleged that the MPs had been paid $2.5m (£1.5m) each to buy their support.
In July the Supreme Court criticised Delhi police for carrying out a "shoddy probe" into the scandal.