Nato restarts Afghanistan prisoner transfers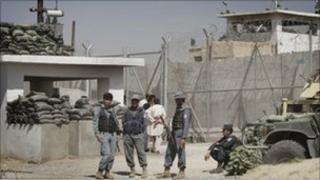 Nato has resumed the handing over of Afghan detainees to the government, alliance officials say.
The handovers were halted nearly four months ago following a UN report which said that detainees faced torture by Afghan interrogators.
It said that some prisoners were beaten and given electric shocks.
Detainees in 47 facilities in 24 provinces run by the Afghan Directorate of Security and National Police suffered abuses, the report said.
The allegations contained in the report were first revealed by the BBC in September.
At that time the government denied torture claims and said the report was politically motivated.
The report says prisoners were mostly subjected to interrogation techniques that constituted torture under international and Afghan law.
It said that torture to extract confessions - although not government policy - was commonplace and systematic.
Prisoners, some of whom were handed over by Nato troops, were beaten with rubber pipes and threatened with sexual assaults by the Afghan interrogators.
Most of those held were suspected of being insurgents and some were held without charge.
Nato said on Wednesday that it had decided to resume transfers after an extensive inspection process.
It said that prisoners would only be handed over to 12 certified facilities - handovers to four others named in the UN report have not yet begun.
The alliance says that it has implemented a six-phase programme under which it inspected the facilities and trained Afghan interrogators in human rights and proper detainee treatment.