Having Bin Laden as your neighbour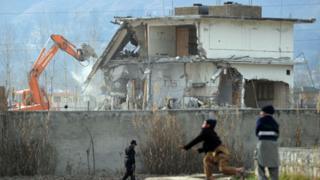 Pakistan has been demolishing the compound where US forces shot dead Osama Bin Laden last year. The discovery of the al-Qaeda leader in Abbottabad has had a big impact on people nearby.
After hours of trying to evade the security forces, walking different routes to the Bin Laden compound, we eventually got to a vantage point where we could see what was going on.
With the wall of a derelict house giving us some cover, we watched as three bulldozers clawed ferociously at what had been Bin Laden's last home.
We were able to see inside the very room the al-Qaeda leader was thought to have occupied, although the insides of the house had now, of course, been entirely stripped bare.
As we set up our small satellite dish on the ground to try to broadcast live, a boy ran up. "He wants you to get out," he said breathlessly. "The policeman says you have to go."
The officer ran up, looking angry.
I turned to him and put my hands together in a brief silent plea that he leave us alone just for a few minutes.
I could hear him muttering as I delivered my report, but he did not interrupt or get in the way.
Afterwards, though, the officer started shouting he wanted us to leave, but he also had complaints about what had been said on air.
"Did you see Bin Laden?" he yelled at one of the local children who had come to watch. The child shook his head.
"Did you?" he shouted at another - the same response.
"Then what are these people talking about?"
I stretched out my arm as we left. "If al-Qaeda says he's dead, how can you have any doubts?" I asked in my broken Urdu.
"You and your Bin Laden," he said, as he shook my hand and turned away.
We trudged through the field we had visited last May, just after the operation.
Then, it was filled with people who had come to see their new tourist attraction. We saw picnicking families and ice cream sellers.
But very soon, once the army here started to recover a bit from the initial shock and humiliation of what the Americans had done, the place was closed off.
We were going to see someone we first met at that time.
Muhammed Niyyaz, in his late 20s, was one of Bin Laden's neighbours, here in the part of Abbottabad known as Bilal Town.
As a plumber, he had been one of the few outsiders to get into the compound when the al-Qaeda leader lived there.
He had been hired on three occasions to replace pipes in the yard, though he says he never saw Bin Laden.
"This whole thing's been a disaster for us," he says. "It completely changed the neighbourhood."
Niyyaz describes how most people who could afford to had moved away, leaving their homes empty.
"Since the raid, there have been security people everywhere," he says "My children still get scared when they see all the police with their guns."
He says land values, in what had been a peaceful, developing residential area, have plummeted.
"My wife was desperate for the building to be demolished," he added. "She hates being reminded of what happened there. Now perhaps we can move on."
Clearly, Pakistan would rather no-one talks of the incident too.
That is why they sent in the bulldozers unannounced, after nightfall on a weekend, why most of the demolition work went on through the night, and why they tried to keep the media away.
It is not just the residents of Bilal Town, of course, but the whole country that has felt the heat since Bin Laden was killed here.
Surely some officials must have known Bin Laden was living here?
Pakistan was accused, at best, of incompetence and far worse, of collusion with al-Qaeda.
Foreign diplomats became far more open about accusations the country had been supporting militants in Afghanistan, and there were threats that Western aid on which Pakistan is so reliant would be cut.
Just like the people of Bilal Town hark back to better days before the US Navy Seals came here, Pakistanis too reminisce about a time when they were not under such pressures.
When their country was safe and prosperous, they say, before what they call "America's War" on their western border.
But when pressed, many people in Abbottabad admit they feel that there is actually much more to be revealed about the secrets of this garrison city and the army's links to militants.
And Pakistanis as a whole will usually ultimately acknowledge that the problems do not all come from outside and were germinating long before the war.
For the authorities, though, the strategy still appears to be very much like that adopted by the policeman by the compound: denial.
For them, it seems, the most convenient way to deal with the problem is to try to behave like it never really happened at all.
How to listen to From Our Own Correspondent:
BBC Radio 4: A 30-minute programme on Saturdays, 11:30 GMT.
Second 30-minute programme on Thursdays, 11:00 GMT (some weeks only).
Listen online or download the podcast
BBC World Service:
Hear daily 10-minute editions Monday to Friday, repeated through the day, also available to listen online.
Read more or explore the archive at the programme website