Indian Defence Minister Antony's office 'not bugged'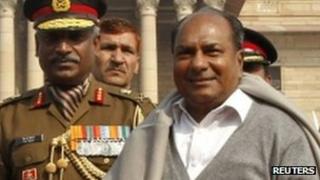 Defence officials in India have denied reports that Defence Minister AK Antony's office was bugged.
Earlier reports said authorities had discovered the security breach and that the intelligence bureau had been asked to hold an inquiry.
Ministry officials said they first came to know about the bugs on 16 February, Press Trust of India reported.
Last year, a similar incident was reported from the office of Finance Minister Pranab Mukherjee.
Reports said adhesive-like substances were found in Mr Mukherjee's office, raising the suspicion that they might have been used to implant electronic listening devices.
The finance minister later said investigations had "found nothing" and urged the media not to waste time on "bogus things".
'Routine checks'
"Reports of 'bugging' in South Block [defence minister's office] in a section of the media is hereby denied," defence ministry spokesman Sitanshu Kar said in a statement.
"Routine checks are conducted in the offices of the minister and other officers in South Block. Nothing has been found in these checks," he added.
Earlier reports had quoted officials in the ministry saying that "audio transmitting devices" had been found in the minister's office.