Pakistan press attack Dale killing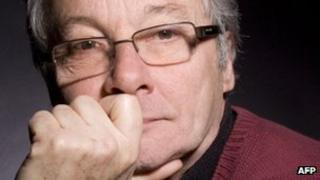 The killing of UK aid worker Khalil Dale was met with condemnation by Pakistan's English-language press, with one paper describing it as a "bestial act" and a "new low" for Pakistan.
Mr Dale, a senior official of the International Committee of the Red Cross (ICRC), was abducted in Quetta in January.
His body was discovered in the same city on Sunday, together with a note saying he had been killed because his abductors' demands had not been met.
One Pakistani newspaper calls upon the government to take action against "rampant" kidnapping, while another criticises the "irresponsible" policy of embedding Western intelligence agents within aid organisations.
In neighbouring India, one commentator suggests that Dale's killing may impact upon future aid operations in Quetta.
PAKISTAN
The News (Islamabad-based centrist pro-free market daily)
Terrorism in Pakistan has reached a new low with the murder of a senior official of the International Committee of the Red Cross (ICRC) Dr Khalil Rasjed Dale... This bestial act demonstrates just how degraded are the moral values of those who would not only kidnap a leading humanitarian, but kill him in a fit of pique... The chances of ever finding and prosecuting his killers are remote - but somebody knows who and where they are and they are just as guilty as those who took the life of a man who only tried to do good for others.
Dawn (Karachi-based left-liberal)
While the savagery of the militants can never be justified, some Western intelligence agencies have complicated matters by reportedly planting operatives within the ranks of humanitarian organizations. This highly irresponsible policy has jeopardized the activities of genuine aid workers and put lives at risk... The governments concerned need to review these policies so that the reputation of international aid agencies and humanitarian outfits is not sullied. By "embedding" operatives to meet perceived goals and gain access to "enemy" territory, Western intelligence agencies are compromising aid organizations' reputation of neutrality and preventing these outfits from carrying out valuable humanitarian work in the world's trouble spots.
Daily Times (Lahore-based anti-jihadist moderate)
The government has to react appropriately as the issue of kidnapping for ransom is becoming serious and rampant with each passing day. For the terrorists, it has become one of the major sources of their funding... Nabbing only the kidnappers or their associates is not enough. There is a need to reach the base of their whole network and dismantle it... The government has to act decisively against the perpetrators otherwise such tragic incidents would continue to make headlines.
Pakistan Today (Lahore-based)
The brutal execution of the British citizen will add to the perception abroad of Pakistan being one of the most dangerous places in the world. This will not only continue to draw away investments from the country but also undermine attempts to improve the visa regime and promote people to people relations with neighbouring countries.
INDIA
Deccan Herald Online (Bangalore-based)
Most international aid agencies moved their foreign staff out of towns like Quetta years ago. Dale's killing will convince the few who remain there to move out. It is the ordinary people who live here, who are caught in the crossfire between armies and insurgents who will pay the price. Government facilities in the area were always minimal here. Aid agencies have tried to fill the vacuum. Women aid workers have been targeted and programmes that involved local women whether as agents of change or beneficiaries were forced to shut down. It was in these difficult circumstances that ICRC and people like Dale stepped in providing locals with a glimmer of hope. That hope has now been snuffed out.
BBC Monitoringselects and translates news from radio, television, press, news agencies and the internet from 150 countries in more than 70 languages. It is based in Caversham, UK, and has several bureaux abroad. For more reports from BBC Monitoring, click here