Yeddyurappa faces federal probe in India mining scandal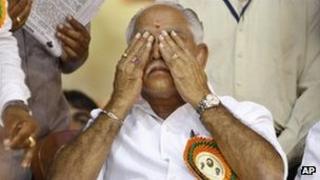 India's supreme court has ordered the federal investigation agency, the CBI, to probe charges of corruption against former Karnataka state chief minister, BS Yeddyurappa.
The order follows a court-appointed committee's suggestion that Mr Yeddyurappa be investigated for alleged abuse of power.
An anti-corruption report last year had indicted him in a mining scandal that cost the exchequer more than $3bn.
Mr Yeddyurappa denies any wrongdoing.
But, he had to quit as chief minister after the state's anti-corruption ombudsman accused him of serious wrongdoings between 2006 and 2010.
Mr Yeddyurappa is accused of showing "undue favours" to some companies involved in illegal mining and other alleged financial irregularities, according to reports.
The Supreme Court order is being seen as a setback for him as he has been putting pressure on the leadership of his Bharatiya Janata Party (BJP) to reinstall him as chief minister.
The order is also likely to embarrass the BJP which has been criticising the central government over allegations of corruption.
Illegal mining has been rife for years in Karnataka. The state reportedly produces about 45 million tonnes of iron ore a year and exports more than half of it to China.