Ex-US President Carter in hospital after falling ill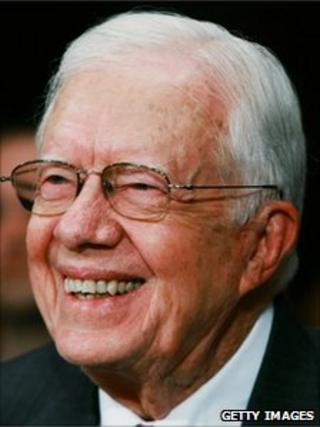 Former US President Jimmy Carter is to spend the night in hospital after being taken ill with an upset stomach on a flight to Cleveland.
"He is resting comfortably and is expected to resume his book tour this week," his grandson Jason Carter said.
The 85-year-old was travelling to promote his new book, White House Diary, which was released last week.
Mr Carter was elected as the 39th US president in 1976 and won the Nobel Peace Prize in 2002.
The former president was taken to Metro Health Hospital at about 1130 local time (1530 GMT) on Tuesday after developing an upset stomach. His doctor advised him to remain in the hospital's care overnight, the Carter Center said in a statement.
According to the website for Joseph-Beth Booksellers, Mr Carter had planned to attend a book-signing in Cleveland, in the US state of Ohio.
He intends to continue his book tour in Washington DC on Wednesday, the Carter Center said.
White House spokeman Bill Burton said President Barack Obama had called Mr Carter from Air Force One to see how he was doing.
Mr Carter has recently called for the US to develop stronger ties with Iran and North Korea.
Last month, Mr Carter secured the release of Aijalon Mahli Gomes, a 31-year-old American citizen detained in North Korea.
He founded the Carter Center a year after leaving the White House to promote elections and mediate conflicts around the globe.