Mountain-top grooving in Montreal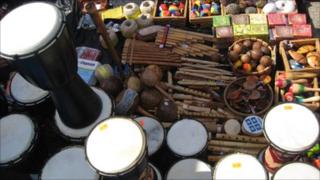 Every Sunday in summer, hundreds of Montreal residents trek to Mont Royal to play, drum and dance. The BBC's Krupa Padhy explored the vibrant delights of the city's longest running drum circle.
Montreal's famed summer festivals come and ago, but among them, there is one event that has been going strong for 30 years, rain or shine.
Sunday for Montrealers means one thing. Not Mass, not a family roast, but the Tam Tam, one of the world's most loyal drum circles named after the eponymous hand drum.
Hundreds of musicians and dancers gather on Plateau Mont Royal every Sunday to get creative. The event has no official organiser and the only publicity it has ever had is word of mouth.
There is just one rule: leave your inhibitions at the gate.
Humble origins
The Tam Tam was founded by Michel Seguin, a Montreal resident, in a now defunct jazz bar on Rue Ontario in 1979.
Seguin wanted to integrate African migrants into the community and started an African drumming workshop.
When the winter freeze came to an end, Seguin and his Tam Tam players made their way outside to make music in the open air, and the Sunday Tam Tam began.
Today, it is not just about Tam Tam drums. Any instrument and any dance move is welcome.
Min Tuh Wah arrived at the Tam Tam in her wheelchair dressed in a brightly coloured flamingo dress and sun hat. She dances at the Tam Tam every weekend.
"It's my place for creative expression," says Tuh Wah.
Menagerie of music lovers
Benoit Carcelle has been participating in the Tam Tam for more than 20 years. He takes his music very seriously.
Despite his loyal attendance, he insists on calling himself an amateur and sits away from the crowd.
"Because I am far, I don't disturb anybody, I can learn,' he says.
For Suzanne, a regular for the past decade, the Tam Tam's popularity has become a problem.
"Ten years ago was better than now," she says.
"Some people have taken over with the snare drums, so they drown out the subtleties of the hand drums. And on top of that, they are leading rhythms so there's not a lot of room for initiative from individuals."
Woodstock at the weekend
One group that Suzanne considers authentic is Jean Michel's music circle. The 55-year-old saxophone player has been playing his 1924 instrument at the Tam Tam for over 18 years.
For Jean Michel, the concept of the Tam Tam is simple: "People get together, you bring your instrument and you play!"
On a recent Sunday, Jean Michel was joined by a Keralan drum player, an African bongo player and a Latino shaker player. He had never met any of them before.
A statue of George-Etienne Cartier in the centre of the gathering bears an inscription reading: "We are of different races not for strife but to work together for the common welfare."
With an eclectic mix races, ages and talents, it is no wonder that the Tam Tam is described by some as "Woodstock every weekend".
And even when the summer ends, the Tam Tam goes on, moving inside where it continues through the winter in local bars.