Denver Broncos wide receiver McKinley found dead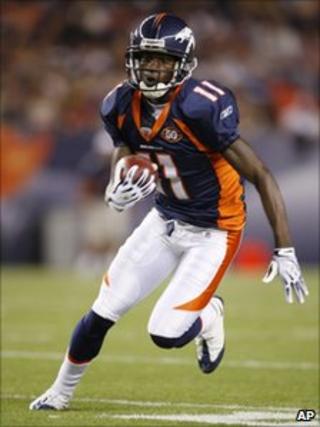 Denver Broncos wide receiver Kenny McKinley has been found dead in his home in an apparent suicide, police in the US state of Colorado have said.
Arapahoe County Sheriff Grayson Robinson said authorities were called to McKinley's house in Centennial on Monday and found his body in a bedroom.
He said detectives believed the 23-year-old had shot himself.
McKinley, a fifth-round pick in the 2009 NFL Draft, played in eight games with the Broncos as a rookie.
He was placed on injured reserve in December after suffering a knee injury.
"Everyone with the Broncos is shocked and saddened by the loss of Kenny McKinley," team president Pat Bowlen said.
"He was part of the Broncos family and will be greatly missed by our organisation. My most heartfelt condolences go out to Kenny's family and friends," he added.
In January 2007, Broncos cornerback Darrent Williams was killed in a drive-by shooting. Three months later, back-up running back Damien Nash collapsed and died after a charity basketball game in St Louis.