Canadian black bear gets free train ride to Winnipeg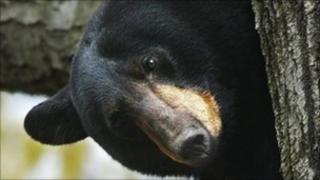 A black bear cub has received a 12-hour free ride to Winnipeg, Canada, from the town of Foxwarren, after getting stuck on the bottom of a train car.
Railway workers in Winnipeg found the cub, which had gotten its head stuck in a 12cm hole in the bottom of one of the cars, Manitoba Conservation officer Blake Patterson told local media.
The bear's body was supported by the train's frame, brake lines and cables.
The cub was captured and later released into Agassiz Provincial Forest.
The accidental passenger aboard the train was kept in a trap for a full day, after being tranquilised by wildlife officials.
"We gave her a little extra time, because she was still very tired, from probably the stress of the whole situation," Mr Patterson said.