Charles Rangel: Ethics lawyer recommends censure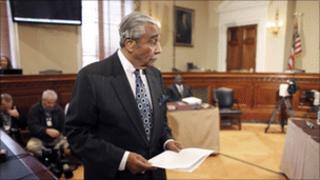 The chief lawyer for the US House ethics panel has recommended veteran New York Congressman Charles Rangel be censured for ethics violations.
Mr Rangel, a Democrat, was found guilty on Tuesday on 11 out of 13 charges.
He had been accused of failing to disclose income and pay taxes on rental property, among other charges.
Chief counsel Blake Chisam called for the most serious punishment short of expulsion, even after Mr Rangel pleaded for "a drop of fairness and mercy".
Denial of corruption
At the sanctions hearing on Thursday, Mr Chisam said Mr Rangel had discredited the House of Representatives and his actions had "served to undermine public confidence in this institution".
The 80-year-old congressman acknowledged mistakes in his finances but repeatedly denied that he was corrupt. He was harshly criticised by two Republican congressmen on the ethics panel.
On Tuesday the panel found that Mr Rangel had used House of Representatives headed paper and congressional staff to solicit money for a New York college centre named in his honour.
The group also found Mr Rangel had failed to disclose at least $600,000 (£378,000) in assets and income in a series of inaccurate reports to Congress.
The congressman was also found guilty of improperly using a rent-controlled residential apartment as a campaign office and failure to report rental income to the Internal Revenue Service from letting out a house in the Dominican Republic.
But the panel could not reach a conclusion on one count concerning whether Mr Rangel had inappropriately accepted gifts. It also combined two charges surrounding the congressman's misuse of congressional stationery into one count.
Mr Rangel was first elected to Congress in 1970 from a heavily Democratic district in New York City's Harlem district.
Despite the charges against him, he won re-election on 2 November with 80% of the vote.
He stepped down as chairman of the House Ways and Means Committee, which handles tax legislation, amid the ethics allegations in March.