John Skelton charged with kidnapping his missing sons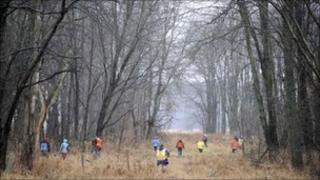 The father of three boys from Michigan, who have been missing since last week, has been charged with their kidnapping, police in the US state have said.
The announcement came hours after police said it was unlikely the children would be found alive.
John Skelton was arrested following his release from a medical facility in Ohio, where he was being treated after trying to hang himself on Friday.
The boys have been missing since the Thanksgiving holiday last Thursday.
The 39-year-old father was charged with three counts of parental kidnapping, police chief Larry Weeks said in a statement.
Mr Skelton's children, who range in age from five to nine years old, have not been seen since Thanksgiving Day, when they were with their father in the town of Morenci.
Mr Skelton had previously told police he had given the boys to a female acquaintance to pass to their mother. Police have said they believe he was lying.