Trial over boy's Uzi death to begin in Massachusetts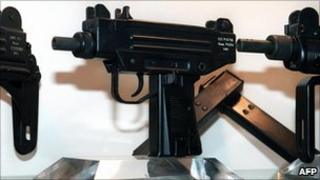 Jury selection in the US manslaughter trial of a man who sponsored a 2008 gun fair where a child accidentally fatally shot himself is to begin.
Authorities in Massachusetts say Edward Fleury should have foreseen the risk in providing eight-year-old Christopher Bizilj with an Uzi submachine gun.
The boy lost control of the weapon, which flipped and shot him in the head.
Mr Fleury, who argues the boy's father gave him permission to fire the gun, denies the charges against him.
A former police chief in Pelham, Massachusetts, Mr Fleury is also charged with illegally furnishing a machine gun to a minor. He could face up to 20 years in jail if convicted.
Also charged were two men who supplied the weapon to the boy and the gun club where the Machine Gun Shoot and Firearms Expo took place.
Hampden County prosecutors say Christopher's father Charles Bizilj selected the compact, automatic Micro Uzi because he had been assured it was safe for his 4ft 3in, 66lb (30kg) son to fire.
In fact, prosecutors say, its small size made it more difficult to handle and less stable.
Christopher was supervised by a 15-year-old boy who was not a certified firearms instructor, prosecutors said.
"The child's father did not believe that allowing his son to fire the machine gun would create a probable risk of death," wrote Mr Fleury's lawyer, Rosemary Curran Scapicchio, according to the Associated Press.
"The truth is that death was not a probable consequence. Instead, it was a tragic pure accident."
Mr Bizilj was filming his son when the fatal accident took place. Mr Fleury's lawyers have asked the judge to exclude the gruesome video from evidence.