Hu Jintao in Washington: Clinton urges 'real action'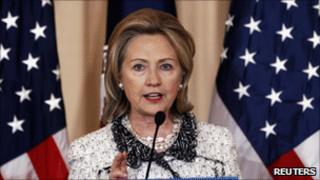 US Secretary of State Hillary Clinton has said US-China relations have reached a critical point and the two must work together more effectively.
Mrs Clinton said a summit next week between the Chinese and US leaders must yield "real action, on real issues".
"It is up to both nations to translate the high-level pledges of summits and state visits into action" on trade and other issues, she said in Washington.
Hu Jintao is to meet President Barack Obama at the White House on Wednesday.
"America and China have arrived at a critical juncture, a time when the choices we make - big and small - will shape the trajectory of this relationship," she said.
'Confront threats'
Mrs Clinton urged China to allow its currency to appreciate faster, reflecting concerns in the US that the undervalued yuan gives Chinese exports an unfair advantage in world markets.
She also said the US rejected the notions that China's growth is a threat to the US and that the US aims to contain the country's rise and constrain its growth.
Her remarks in Washington came the same week that US Defence Secretary Robert Gates made a historic visit to Beijing, while the Chinese military on Tuesday announced it had tested a new stealth fighter plane.
Mr Hu's visit to the US is being hailed by some US analysts as the most important state visit in three decades.
But the relationship between the two countries has been fraught with tension recently over US arms sales to Taiwan, a visit to the White House by the Dalai Lama and human rights issues.
"Global recession, nuclear proliferation, terrorism, piracy on the high seas - these are threats that affect us all, including China. And China should join us in confronting them," Mrs Clinton said.
In Washington, Mr Hu is expected to meet US congressional leaders of both parties and visit a Chinese-owned vehicle parts factory.
He and Mr Obama are expected to drop by a meeting between US and Chinese business executives.