US Congresswoman Giffords' condition upgraded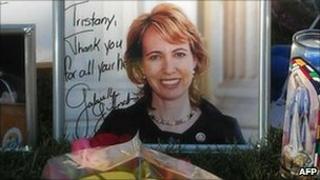 The condition of US Congresswoman Gabrielle Giffords, who was shot in the head in Arizona, is now "serious" rather than "critical", hospital officials say.
Doctors said Ms Giffords' condition was upgraded because she was successfully taken off a ventilator.
They replaced her breathing tube on Saturday with a tracheotomy tube in her windpipe to protect her airways.
Six people died in the shooting, which sent shockwaves across the US.
Ms Giffords - who has had brain surgery - had been breathing on her own since the shooting in Tucson, but the breathing tube had been left until now as a precaution.
The gunman - allegedly 22-year-old college dropout, Jared Lee Loughner - was arrested after he opened fire as Ms Giffords was holding a constituency meeting on 8 January. More than a dozen people were also injured.
'Progress every day'
On Sunday, Senator Kirsten Gillibrand, said Ms Giffords was "doing great" and "making progress every day".
"She's using both sides of her body. She's able to breathe on her own. She's able to open her eyes and to show people she understands what she's hearing and seeing," Ms Gillibrand said on NBC's Meet The Press programme.
"It's an extraordinary amount of progress for a woman who sustained such a horrific injury," she added.
Mr Loughner has been charged with several offences and could face the death penalty if found guilty.