China's media warn differences with US remain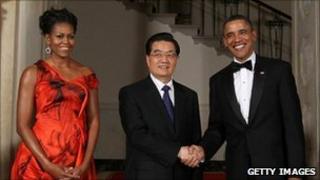 The warm reception given to Chinese President Hu Jintao in Washington was praised by commentators in his own country, with some predicting that Sino-US relations were entering a "slightly more stable" phase.
However, most writers warned that differences between the two great powers could not be ignored, and that Washington would continue to exert pressure on Beijing on issues of concern to the US.
Commentators in mainland Chinese media and in Hong Kong papers said that economic strength would eventually decide whether China could rival the US as an equal.
Gao Zugui on China Central Television
After this meeting, one can expect Sino-US relations to enter a slightly more stable period than in the past year. Having experienced friction and collisions over the past year, the understanding between China and the US regarding concern for mutual interests - especially their understanding of core interests - may have deepened.
Zhu Feng on China Central Television
The high standard of treatment given to President Hu's visit to the US has of course shown the high degree of importance that the Obama administration has attached to further developing and stabilizing Sino-US relations. However, I also believe that this is now an important strategic measure in the White House's so-called China policy. It will give China enough respect, but on the other hand, continue to exert pressure on China on issues of concern to the US.
Zhou Zaixun in Beijing's Zhongguo Jingji Shibao
The differences between China and the US cannot be ignored... (President Barack) Obama may continue to maintain a positive and cooperative attitude towards Sino-US relations, but the domestic political situation is bound to force him to make many contradictory decisions... With the constant rise of China's international status, China and the US will be in a state of both competition and cooperation.
Zhang Guoqing in Shanghai's Xinmin Zhoukan
One cannot expect too much of the "Hu-Obama meeting"... From a strategic perspective, what the US is seeking is to maintain its position of absolute superiority, which means that it has always been wary of China, Russia and other countries that are likely to catch up with it.
Zhao Kejin in Shanghai's Dongfang Zaobao
The complexity of Sino-US relations has determined that there will also be trouble in 2011... Specifically, there are three main areas: First, the Taiwan issue... Human rights issues... Intellectual property rights... But this will not cause a Sino-US conflict... The development of Sino-US relations is already caught up in a complex global network, and the negative consequences of structural contradictions in Sino-US relations should not be over-exaggerated.
Editorial in Beijing's Global Times
China's political influence is beginning to match its economic clout. Observing a deeply indebted federal government that desperately wants to cut its deficit, some US intellectuals are realizing the crux of the problem.
You Zhixin in Beijing's Guoji Xianqu Daobao
With the expected depreciation of the US dollar, the risk of devaluation facing China's foreign reserves is as huge as ever... But if we carefully discern the recent news of [China's increased holdings of] South Korean government bonds, European government bonds and US real estate, it is not difficult to see that China's foreign reserves have already shown a trend of no longer "sticking to US debt".
Zhang Monan in Beijing's China Daily
Although China may increase the holdings [of US Treasury bonds] from time to time in accordance with the market situation, in the long term there is a tendency that the country will further diversify its foreign exchange portfolio.
Hong Kong press
Editorial in Hong Kong Economic Journal
President Hu's VIP reception certainly does not mean that the conflicts between China and the US have been "swept away"... China's economic strength is the key to whether it can ultimately rival the US as an equal.
Lin Sin-chee in Hong Kong's Ming Pao
I have reason to believe that the Chinese government is rapidly adjusting its investment of foreign exchange reserves. The day before President Hu Jintao left Beijing, the "International Herald Leader" under the official Xinhua News Agency issued an article entitled "China's huge foreign reserves will no longer stick to US debt".
BBC Monitoring selects and translates news from radio, television, press, news agencies and the internet from 150 countries in more than 70 languages. It is based in Caversham, UK, and has several bureaux abroad.