Wind chill warnings across Canada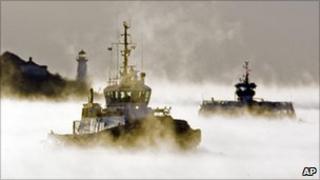 Wind chill warnings are in place across much of east and central Canada as Canadians brave some of the lowest winter temperatures in decades.
Quebec City temperatures fell to -25C. Wind chill made it feel more like -40C.
Other parts of east and central Canada are experiencing similar lows and the severe temperatures were set to remain until Tuesday morning.
Despite being a country used to extreme weather, many residents are finding the latest cold snap hard to bear.
Last year's relatively warm winter had raised expectations according to David Phillips, Senior Climatologist with Environment Canada, who told the BBC: "I think we were seduced into thinking this was what winters were going to be."
Upside down
Some of mildest weather is currently being seen in the northern Arctic regions.
The city of Whitehorse in Yukon was enjoying a relatively balmy -1C on Monday.
"We often think that winter begins in the north," said Mr Phillips.
"But we have had some very high temperatures. It's almost as if the weather was upside down."
Further south, in Ottawa, the temperature reached -28.6C, the lowest recorded since 1970. Montreal fell to -22C.
"It's freezing," said Louis Thibaut, who runs a winter clothing store in the city.
He noted that locals, caught off guard, had been buying-up heavy duty outdoor wear.
"People spend from $600 to $800 on goosedown jackets which are good to -40 degrees," he said.
Americans are being warned that the cold front is heading their way next.
Residents in the north-eastern states of Maine and Vermont have been warned to expect similar temperatures to those seen in Canada.
Many schools have already been closed, in preparation for expected blizzard conditions.