Canada-US talks on border security, trade issues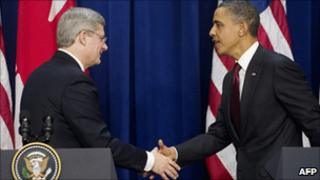 Canadian Prime Minister Stephen Harper and US President Barack Obama have pledged to work towards a "new vision" for border security and trade issues.
The two leaders said the free flow of goods over the border was crucial for the two economies.
Speaking at the White House, they said they had pledged to find ways to eliminate regulatory barriers to trade.
The plans are also expected to entail joint border inspection agencies and greater intelligence sharing.
'Match up'
Canada is the US's largest trading partner, with roughly $1bn (£1.6bn) in goods shipped over the border every day.
"It is in Canada's interest to work with our partners in the US to make sure that our borders are secure and that we can trade and travel across them safely... within the context of our different laws," Mr Harper told reporters.
But the two sides acknowledged differences on issues such as security and privacy.
"Obviously, the US and Canada are not going to match up on every issue, with respect to security issues and privacy issues," Mr Obama said. "But we match up more than any other two countries on Earth."
Information sharing concerns
Canadian opposition parties have said they fear the US will demand too much personal information about Canadian citizens and companies, diminishing the nation's sovereignty.
US senators, meanwhile, have reacted with concern over a new US government report which found that only 32 miles of the 4,000-mile border between US and Canada was adequately secured.
Mr Obama and Mr Harper discussed energy security, in particular the Alberta oil sands extraction that the Obama administration says would reduce the US dependence on Middle Eastern oil.
A study commissioned by the Obama administration said a 1,900-mile pipeline from the Canadian oil sands region to refineries in Texas could "could essentially eliminate Middle East crude imports longer term."
But opponents of the oil sands development say extraction creates unacceptably high levels of pollution and the long pipeline puts the water supply in the farmland across which it travels at risk.