Libya: Obama says Nato weighing military action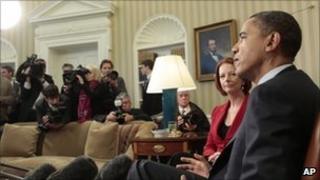 Nato allies are still weighing a range of options including military action in response to the conflict in Libya, US President Barack Obama has said.
Mr Obama said the Libyan government's violence against its own people was "unacceptable".
Forces loyal to Libyan leader Col Muammar Gaddafi are battling rebels seeking to overthrow him.
Mr Obama was speaking at the White House after a meeting with Australian Prime Minister Julia Gillard.
"I want to send a very clear message to those who are around Col Gaddafi: It is their choice to make how they operate moving forward," Mr Obama said, adding they would be held accountable for violence.
"Australia and the US stand shoulder to shoulder in sending a clear message that we stand for democracy, that we stand for an observance of human rights, and we send a very clear message to the Libyan people that we will stand with them in the face of unwarranted violence and the continued suppression of democratic ideals," Mr Obama said.
Mr Obama pledged $15m (£9.2m) to aid organisations on the ground in Libya, in addition to the $10m in humanitarian aid the US sent to Libya last month.
The US has also imposed financial sanctions on the Gaddafi regime, and some senior officials in Washington have called for the US to establish a no-fly zone over Libya to protect civilians and rebel fighters from air strikes.