US consulate murders: Mexican 'gang members' charged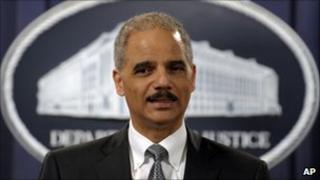 Ten suspected Mexican gang members have been charged over the murder last year of three people with ties to the United States consulate in Ciudad Juarez.
A federal court in the US state of Texas said the 10 belonged to the Barrio Azteca gang.
The gang is accused of drug smuggling, kidnapping and money laundering on both sides of the US-Mexican border.
The killings raised fears that US interests had become a target in Mexico's drugs war.
Lesley Enriquez, a US citizen working at the Juarez consulate, and her American husband Arthur Redelfs were shot dead in their car after leaving a social event in the city.
Ms Enriquez, 35, was four months pregnant when she died. The couple's seven-month-old daughter survived the attack and was found crying in the back seat.
The husband of another consular official, Jorge Alberto Salcedo, was killed in a near-simultaneous drive-by shooting as he drove away from the same event.
'Zero tolerance'
Seven of those indicted over the killings are in custody in Mexico, while three remain at large.
US Attorney General Eric Holder said the indictment would send out a message to anyone wanting to harm the United States.
"These arrests and criminal charges will disrupt Barrio Azteca's current operations, and they reaffirm that we will not tolerate acts of violence against those who serve and protect American citizens," Mr Holder said.
Assistant Attorney General Lanny Breuer said the indictment offered "a chilling picture of a highly organised, and extremely brutal gang".
The indictment described the evolution of Barrio Azteca from a violent prison gang in the 1980s to an international drug-trafficking ring.
Among the 10 people charged is alleged Aztecas leader Arturo Gallegos Castrellon.
Shortly after his capture in November, he reportedly confessed to ordering 80% of the murders committed in Juarez over the previous 15 months.
Police said Mr Gallegos told them he had also ordered the shooting of three people linked to the US consulate in Ciudad Juarez in March 2010.
Ciudad Juarez, on the border with the US, is by far Mexico's deadliest city with more than 3,000 murders in 2010.