US yacht killings: 14 'pirates' indicted in Virginia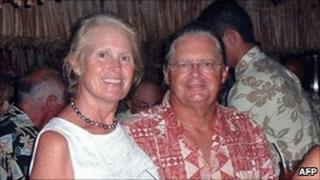 A US federal grand jury has indicted 13 suspected pirates from Somalia and one from Yemen over a boat hijacking that left four Americans dead in February.
The men face piracy, kidnapping and firearms charges, the US Department of Justice said.
The couple who owned the boat and two guests were shot to death after pirates took them hostage off Oman.
The suspected pirates were captured by US naval forces sent to the scene of the hijacking.
The 13 suspected pirates were indicted on Thursday by a grand jury in Norfolk, Virginia.
Pirate attacks
The victims were Jean and Scott Adam, who owned the S/V Quest, and guests Bob Riggle and Phyllis Macay.
They are the first US citizens killed in a wave of pirate attacks that have plagued the Gulf of Aden and the Indian Ocean in recent years.
US naval forces were tracking their captured yacht when the pirates fired a rocket-propelled grenade, according to the military.
Then gunfire was heard on board the yacht. Special forces boarded the vessel and found the Americans had been shot, the military says.
In the past year, at least six accused Somali pirates have been convicted in US courts.