Libya: 'Noose tightening' on Col Gaddafi, Obama says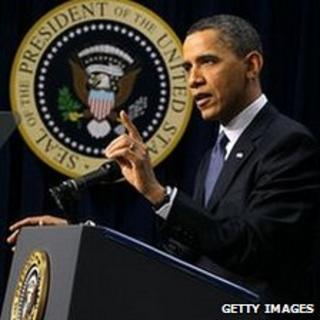 US President Barack Obama has said the world is "tightening the noose" on Libyan leader Col Muammar Gaddafi, as rebels seek to drive him from power.
He said the world had an obligation to prevent any massacre of civilians in Libya similar to those that took place in Rwanda and Bosnia during the 1990s.
The US would take a range of actions to ensure Col Gaddafi left power, he said, and all options were on the table.
Meanwhile, US sanctions were extended to Gaddafi family members and aides.
And Mr Obama said an envoy would be appointed to consult with anti-Gaddafi representatives.
Speaking in Washington, the US president said that "we are slowly tightening the noose around Gaddafi" and "the bottom line is that I have not taken any options off the table at this point".
"Let me be as clear as I can about the desired outcome from our perspective, and that is that Gaddafi step down," he told reporters.
"And we're going to continue to work with the international community to try to achieve that and we're going to be in close consultation with these opposition groups, as they get organised, to see how we can bring about that outcome."
Mr Obama said he wanted to make it clear to Col Gaddafi "that the world is watching" his actions and that he and his government would be held accountable for harm done to civilians.
The Libyan leader was becoming "more and more isolated internationally" through sanctions and an arms embargo, he added.
The US Treasury department said Col Gaddafi's wife, four of his children and four senior officials, including Libya's defence minister and military intelligence chief, had now been blacklisted.
Under the sanctions, Americans are banned from doing business with them and any assets they may have under US jurisdiction will be frozen.
"Today's designation should send a strong signal to those responsible for the violence inflicted by Gaddafi and his government that the United States will continue steps to increase pressure and to hold them accountable," the Treasury department said.
Foreign intervention
Meanwhile, leaders of the European Union's 27 member states meeting at an emergency summit in Brussels said Col Gaddafi must surrender power.
However, they did not agree on a widely-mooted proposal for a no-fly zone over Libya.
The Arab League is meeting to discuss the Libyan crisis on Saturday. The African Union has already rejected any idea of foreign military intervention in Libya.
Forces loyal to Col Gaddafi continued to make gains on Friday.
There have been more airstrikes on the oil port of Ras Lanuf, with an oil refinery and a rebel checkpoint among the targets.
The town has been held by anti-Gaddafi forces for several days and rebels still reportedly control the inner city and residential areas.
Col Gaddafi's regime took a number of Western journalists to Zawiya on Friday for the first time since it was recaptured from the rebels.
The city, 30 miles (48km) west of Tripoli, was bombarded for days by government forces and reporters described scenes of devastation and streets that were deserted except for government supporters who had been brought in.