Two police officers killed in Virginia shooting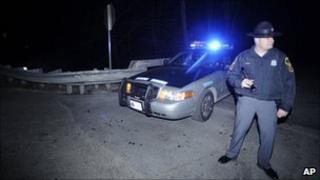 Two sheriff's deputies have been killed and two others wounded in a shooting at a salvage yard in Virginia.
The deputies were investigating reports of a robbery in the town of Vansant late on Sunday and were met by gunfire. A suspect was later killed.
One of the deputies suffered life-threatening injuries while the other was in a serious condition, Sgt Steve Lowe of the Virginia State Police said.
A candlelit vigil for the four officers will be held later on Monday.
Vansant is a former coal mining town in the mountainous region of rural south-western Virginia.
The vigil is planned for Monday night at the Buchanan County Courthouse in nearby Grundy, according to two Facebook pages paying tribute to those involved.
Three people were killed and three wounded at a law school in Grundy in a shooting incident in 2002.