US disaster relief for Japan well below Haiti levels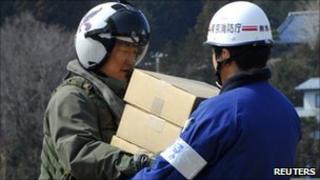 US donations for victims of the earthquake in Japan are pouring in, but are far from levels seen after Haiti's quake, aid officials say.
The Chronicle of Philanthropy has recorded $64m (£37m) in donations, about a third of the amount pledged for Haiti at a similar time.
Relief agencies have sent comparatively few aid workers, as Japanese authorities have taken the lead.
The American Red Cross has received gifts and pledges of $47m.
It has already sent $10m to the Japanese Red Cross.
"The needs are immense - they are still determining where they would spend the money we sent," Suzy DeFrancis, chief public affairs officer for the American Red Cross was quoted by the Associated Press as saying.
Relief experts believe the reason for the gap between Haiti and Japan aid levels is that Americans were aware of the existing poverty in Haiti, while Japan's affluence was also well-known.
Joel Charney, vice-president for humanitarian policy at InterAction, has said that although rebuilding will be a mammoth undertaking, he doesn't expect the Japanese to be overly reliant on international help.
"I don't see this as a kind of Haiti-style mega-emergency, in terms of a substantial international presence for an extended period of time," he said.
Regardless, the US government has already offered significant assistance, including $35m in humanitarian aid from the armed forces.
Japan recently sent a disaster relief team to New Zealand to aid authorities after the 6.3 magnitude earthquake that struck Christchurch in February leaving at least 122 people dead.