Barack Obama arrives in Brazil on Latin America trip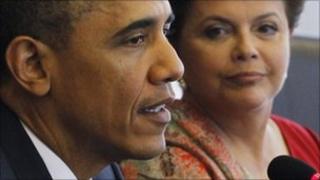 US President Barack Obama has begun a five-day trip to Latin America aimed at building markets for US exports and extending US influence.
Mr Obama has started his tour in Brazil, a major market for US goods, where he hopes to bolster ties with new Brazilian President Dilma Rousseff.
He later travels to Chile and El Salvador.
The White House bills the trip as a way to create US jobs by deepening economic ties with Latin American countries.
Brazilian authorities have raised security for Mr Obama's visit and police in Rio closed a number of streets in preparation.
Police fired rubber bullets and tear gas to break up a demonstration of about 300 anti-US protesters at the American consulate in Rio on Friday.
'Historic opportunity'
In a joint news conference, both leaders flagged up Brazil's rising economic power.
And Ms Rousseff promised that there would be opportunities for the US and Brazil to work together in areas such as genetics, biotechnology, finding renewable energy sources and deep-sea oil exploration.
"Combining our most advanced capabilities in the fields of research and innovation will certainly bear the best fruits for both our societies," she said.
Mr Obama said that both he and the Brazilian leader regarded the trip as a "historic opportunity" to put the two nations on a path toward even greater co-operation.
One of Mr Obama's aims was to increase energy trade between the two countries, and he has previously noted that Brazil's newly discovered oil reserves could be even larger than America's.
"Brazil is becoming a key actor in global energy markets with its recent deepwater oil discoveries," senior Obama adviser Mike Froman told BBC Brasil before the trip.
Another key issue discussed by the two leaders was Brazil's desire to become a permanent member of the UN Security Council.
They released a joint statement calling for "modest expansion" of the council.
The statement said Mr Obama "expressed appreciation for Brazil's aspiration to become a permanent member of the Security Council".
The wording appears to fall short of a full endorsement, and analysts say Ms Rousseff was clearly frustrated at the lack of stronger support.
'Critical partner'
Mr Obama was due to travel on to Rio de Janeiro, to visit the Christ the Redeemer statue and to make a speech aimed at describing to Brazilians the values the two countries share.
Brazil is the eighth largest importer of US goods, and the amount it buys from the US is growing rapidly, White House aides say.
"As a part of the president's continued effort to deepen our ties with emerging markets around the world, Brazil is a critical partner and critical stop on this trip," Deputy National Security Advisor Ben Rhodes said this week.
In Chile, Mr Obama will make a speech laying out goals on energy co-operation, security, economic growth and development, and democracy and human rights, White House aides said.
El Salvador is home to one of America's largest Hispanic populations. But its murder rate has been climbing, as have cocaine seizures in the country and what is perceived by some as growing insecurity is concerning US officials.
Mr Obama will have talks with left-wing El Salvadoran President Mauricio Funes.