Four New York Times journalists freed in Libya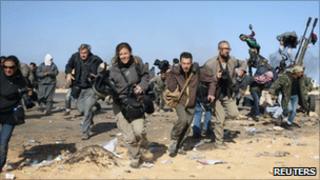 Four New York Times journalists detained in Libya have been released to the Turkish embassy in Tripoli.
The four were detained last week by Libyan leader Col Muammar Gaddafi's forces after entering rebel-held territory without visas, the Times said.
They included reporters Anthony Shadid and Stephen Farrell and photographers Tyler Hicks and Lynsey Addario.
Turkish diplomats were escorting them out of the country, the newspaper said.
Col Gaddafi has been fighting a rebellion that broke out last month.
The four journalists were covering the conflict between forces loyal to Col Gaddafi and rebel forces in the eastern city of Ajdabiya.
The US, UK, France and other countries are continuing strikes on Col Gaddafi's forces after the UN authorised action to protect Libyan civilians.
US and UK officials say Col Gaddafi himself is not a target of the air strikes, which they insist are aimed at his troops and air defence systems.