Joseph Maraachli: Tracheotomy for end-of-life row baby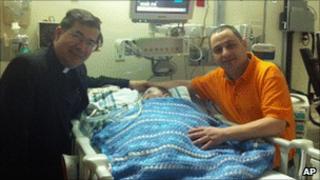 A US hospital has performed a tracheotomy on a terminally ill Canadian infant, which his parents said would allow him to die in comfort.
Joseph Maraachli, aged one, is in a vegetative state with a severe neurological illness and will die without a ventilator, doctors say.
Cardinal Glennon Children's Medical Center said its doctors had deemed the operation "medically appropriate".
A hospital in the baby's native Ontario had refused to perform the surgery.
"It is our hope that this procedure will allow Joseph and his family the gift of a few more months together and that Joseph may be more comfortable with a permanent tracheotomy," the hospital in St Louis in the US state of Missouri said in a statement.
The hospital said the baby, who is unable to breathe without a ventilator, is expected to spend seven to 10 days in intensive care, then move to a specialty paediatric hospital before making the journey back to Windsor, Ontario.
Joseph was transferred to Cardinal Glennon hospital last week.
Since October he had been at Ontario's London Health Sciences Centre, where doctors said he would die as soon as he was removed from a ventilator. The hospital had agreed to transfer him to the family home before doing so.
But the child's family said removal of the ventilator would cause him to choke painfully to death, and sought a tracheotomy that they said would allow him to die more comfortably and slowly.