Karzai orders probe over anti-Koran burning protests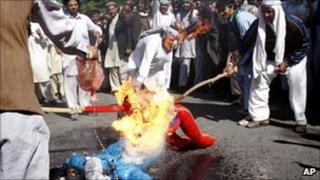 Afghan President Hamid Karzai has ordered a probe into deadly protests over the burning of the Koran in the US, his spokesman has said.
Protests over the burning, by a US pastor, began on Friday and have left dozens dead, seven of them UN staff.
The probe is to investigate what turned the demonstrations to violence and why police failed to prevent the killings.
Meanwhile, the White House on Monday called the Koran burning "un-American".
"We absolutely condemn the burning of a holy text. We think it is un-American and inappropriate," said White House spokesman Jay Carney.
But Mr Carney added that the destruction of the book did not justify the killings of UN staff in Afghanistan.
In an interview with the Wall Street Journal published on Sunday, US Gen David Petraeus also condemned the burning, calling it "hateful, extremely disrespectful and enormously intolerant".
"Every security force leader's worst nightmare is being confronted by essentially a mob, if you will, especially one that can be influenced by individuals that want to incite violence, who want to try to hijack passions, in this case, perhaps understandable passions," Gen Petraeus said of the protests.
"Obviously it's an additional serious security challenge in a country that faces considerable security challenges," he added.
In a meeting attended by Gen Petraeus and US ambassador Karl Eikenberry on Sunday, Mr Karzai repeated his calls for the Obama administration and the US Senate to condemn the Koran burning in "strong words - and bring those responsible to justice", Mr Karzai's office said.
On Saturday, President Barack Obama said the burning was an act of "extreme intolerance and bigotry".
Police 'failure'
Mr Karzai on Sunday assigned two committees to investigate demonstrations that took place in both Mazar-e Sharif in the north and the southern city of Kandahar, Waheed Omer, Mr Karzai's spokesman, said.
"They are tasked to investigate the factors that turned the demonstrations to violence, and what caused the failure of police that could not prevent this," Mr Omer said.
At least 22 people, including seven UN staff, died in Mazar-e Sharif.
In Kandahar, about a dozen others were killed in two days of violent demonstrations.
The controversy began in Florida on 20 March, when Pastor Wayne Sapp soaked a Koran in kerosene, staged a "trial" during which the Islamic holy book was found guilty of "crimes against humanity", and then set it alight.