FAA orders inspections of Boeing 737s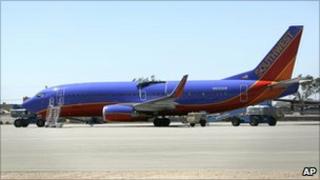 The US Federal Aviation Administration has ordered the inspections of 175 Boeing 737s after a Southwest Airlines plane developed a hole in its cabin roof in mid-flight on Friday.
Carriers flying older 737s must perform electromagnetic inspections within five days, the directive said.
Eighty of the 175 aircraft to be inspected are registered in the US.
Southwest said on Tuesday repairs were being made to five older Boeing 737-300s after fuselage cracks were found.
Southwest operates the majority of the US-registered Boeing aircraft that are expected to undergo electromagnetic inspection.
But all carriers flying 737-300, 400 and 500 model planes that have completed more than 35,000 take-off and landing cycles must perform the checks, the FAA said.
"Safety is our number one priority," said Transportation Secretary Ray LaHood in a statement.
"Last Friday's incident was very serious and could result in additional action depending on the outcome of the investigation."
The Southwest plane with the ruptured fuselage landed without incident at an Arizona military base on Friday.
Some of the 118 people on board the flight, which had just taken off from Phoenix, reported hearing a loud bang as a 1.5m-long gash appeared.
The hole caused a sudden drop in cabin pressure, forcing pilots to make a controlled descent from 10,485m (34,400ft) to the base. No-one was seriously injured, though a flight attendant was slightly hurt.
'Skin fatigue'
Southwest has already pulled 79 Boeing 737-300s from service to inspect them for "skin fatigue" and cancelled 650 flights.
The company said on Tuesday it was making repairs to five older Boeing 737-300s after inspections carried out in the past several days found fuselage cracks.
The inspections were designed to detect cracking that cannot be spotted with visual inspection, FAA administrator Randy Babbitt said.
"The FAA has comprehensive programmes in place to protect commercial aircraft from structural damage as they age," Mr Babbit said.
Boeing said it would work with the FAA and the National Transportation Safety Board, as well as assist Southwest throughout the inspection process.
Southwest changed its maintenance programme after metal fatigue caused a similar accident to the one that happened on Friday on another of its jets in 2009. Before then, the airline paid millions of dollars to settle charges that it was skipping inspections.
In 1988, cracks caused a hole to open in an Aloha Airlines plane over Hawaii. In that accident, a flight attendant died.