Missing child Adam Benhamma 'unlikely to be found alive'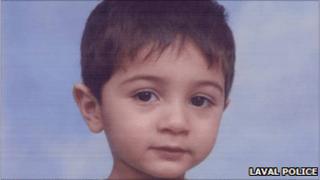 There is now little hope of finding alive an autistic toddler who has been missing for two days, police in Quebec say.
After two days of searching frozen, flooded woods and a murky river for Adam Benhamma, a police official said officers were "now looking for a body".
Police in Laval said the search was complicated by Adam's inability to hear or to speak.
But police have also said it is possible the boy could have been taken.
'Hide and seek'
"In our minds, we are searching for a body," Laval Pc Nathalie Lorrain told CBC News. "We don't think we will be finding the little boy alive, unfortunately."
The boy was playing hide-and-seek with his seven-year-old sister during a visit on Sunday with their father to a friend in a remote part of the Auteuil district of Laval when he went missing, and police said he did not know the area.
On Tuesday, fire fighters searched the banks of the Mille-Iles River, and divers scoured the river and used sonar to scan the bottom.
Police intend to re-interview Adam's seven-year-old sister, the last person reported to have seen him before he disappeared.
Pc Lorrain said on Tuesday none of his clothing had been recovered, the Montreal Gazette reported.