UAE officer charged in US with fraud in employment case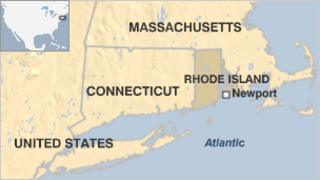 A military officer from the United Arab Emirates has been accused of luring a Filipina servant to the US and keeping her in virtual slavery.
Col Arif al-Ali, a student at the US Naval War College in Rhode Island, took the woman's passport, failed to pay her and kept her confined to his house, prosecutors said.
He is charged with fraud and falsely telling federal investigators he had paid her.
He pleaded not guilty on Tuesday.
'Forbidden to leave'
Col al-Ali, 46, brought the woman to the US as a household servant for himself, his wife and five children, promising her $10 (£6.14) per hour for 40 hours of work a week, Assistant US Attorney Mary Rogers said.
Instead, he forced her to work seven days a week, often until midnight, without pay and refused to let her talk to anyone outside the family or to leave the house on her own, Ms Rogers said.
The woman, who has not been identified, escaped and is now in hiding, prosecutors said.
When confronted by investigators in February, Col al-Ali produced a document indicating he had paid the woman $19,000. Investigators found no evidence he had made the payments, officials said.
Col al-Ali's lawyer Victoria Walton put the discrepancy down to a misunderstanding and to a language barrier.
Each felony count carries a maximum penalty of up to five years in prison and a $250,000 fine.
Col al-Ali was released pending trial in July and told he must continue studies at the Naval War College, a US government institution in Newport, Rhode Island, that trains US and foreign naval personnel.
He was ordered to restrict his movements to the state of Rhode Island unless he needs to travel for his studies, which are to conclude on 10 June.