Two workers in Tennessee sewage tank wall collapse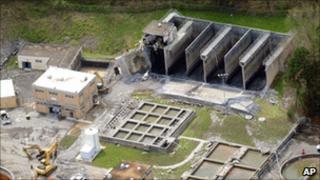 Two workers have been killed in the US state of Tennessee when a sewage tank wall collapsed, spilling millions of gallons of wastewater into a river.
Their bodies were found beneath the rubble at a sewage plant in Gatlinburg.
With the plant out of operation, wastewater - said not to include solid matter- was being discharged into the Little Pigeon River, officials said.
The area had seen heavy rain before the collapse, but officials had yet to determine the accident's cause.
"No one knows what happened, really," Jim Davis, spokesman for the city of Gatlinburg, was quoted by the Associated Press as saying. "It's all guesswork right now."
The deceased workers were identified as John Eslinger, 53, and Don Storey, 44.
The size of the initial spill remained unclear, but officials on Tuesday estimated it between 1.5 and 3.2 million gallons.
Officials were urging local residents to keep clear of the river but said drinking water was safe.