LaBrie sentenced to prison in autistic son cancer death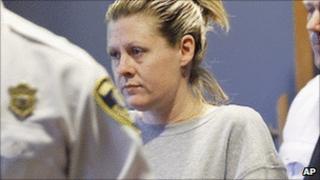 A Massachusetts woman convicted of attempted murder for withholding cancer drugs from her son has been sentenced to eight to 10 years in prison.
Kristen LaBrie's son Jeremy Fraser, who was autistic, died in 2009 at age nine of leukaemia.
Prosecutors said she had stopped giving the boy medication because she was angry at having to raise him herself.
The judge said he sympathised with LaBrie's plight as a single mother but said the act "chills the soul".
LaBrie was found guilty this week of attempted murder, assault and battery on a disabled person, and other charges, for which she faced up to 20 years in prison.
In her defence, she told the jury she had ceased to give Jeremy the drugs after seeing how ill they made him.
At the trial, prosecutors told the jury that LaBrie had stopped giving the boy cancer medication for five months following his initial diagnosis with non-Hodgkins lymphoma in 2006.
The boy's oncologist testified the type of cancer the boy had has a cure rate of 85% to 90% with treatment, but that it recurred in the form of the leukaemia that killed him.
When the doctor discovered LaBrie had not given him the cancer medication prescribed, Jeremy was placed in the custody of his father, who was killed in a motorcycle accident several months after the boy's death.