Libya: Stephen Harper says Canada to delay jet decision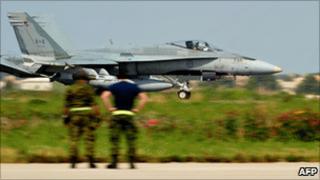 Canada will not decide whether to boost its role in the Nato-led military effort in Libya until after its May election, PM Stephen Harper has said.
Canada has already sent seven jets, and the Conservative Party leader on Friday asserted it would not send soldiers.
His remarks came a day after Nato chief Anders Fogh Rasmussen called for more aircraft for the Libya mission.
Canadian voters head to the polls on 2 May. Mr Harper's party is widely expected to return to power.
"We continue to discuss this with allies, but we've been clear, we are not putting Canadian soldiers on the ground, and in terms of requests for additional participation, we will not make those kinds of commitments during an election campaign," Mr Harper said on a campaign stop in Ottawa.
"To make any kind of additional commitment would require the parliament of Canada to be sitting and to be discussing these matters."
Canadian jets have participated in air strikes enforcing the no-fly zone over Libya, which is aimed at protecting Libyan civilians under a UN mandate.
Britain and France have pressed other Nato members for additional contributions in order to intensify raids against Col Gaddafi's forces.