Three arrested over 1969 teen killing in Massachusetts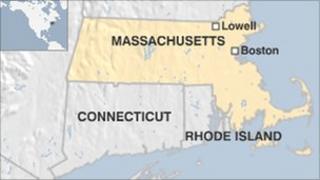 Police arrested three men in connection with the 1969 killing of a 15-year-old boy in the US state of Massachusetts, authorities have said.
The body of John Joseph McCabe was discovered in an empty lot in the town of Lowell more than four decades ago.
McCabe was kidnapped after leaving a dance, assaulted by three teenagers and left to die of asphyxiation, Middlesex District Attorney Gerry Leone said.
Prosecutors claim the killing was prompted by jealousy over a girl.
They did not say what led to the arrests but described the development as "an incredible turn of events".
The Boston Globe newspaper reports that the arrests came after a secrecy pact between the three men broke down.
McCabe's body was found in September 1969 with his eyes and mouth taped closed and arms bound by rope.
On Thursday, police arrested Walter Shelley, 60; Edward Allan Brown, 59; and Michael Ferreira, 57, who all knew McCabe at the time of the incident, Mr Leone said.
Mr Shelley has been charged with murder, and Mr Brown faces a manslaughter charge.
Mr Ferreira has been charged with murder in a juvenile court because he was a minor at the time of the alleged assault.
"The investigators on this case, as well as the victim's family, never gave up hope that those responsible for the murder of John McCabe would be held accountable for his death," Mr Leone said.