Canada university student 'on web chat' before death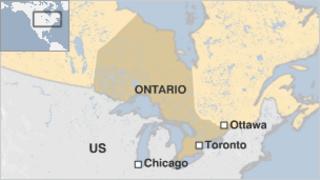 The last moments of a student found dead in her Toronto flat were witnessed by a friend in China with whom she was having a webcam chat, police have said.
Qian Liu, 23, of Beijing, was seen struggling with a man who entered her basement flat near York University.
Police have not yet determined the cause of death or ruled it a homicide.
The online witness told police someone had knocked on his friend's door on Friday, asked to use her phone, then struggled with her and shut the laptop.
Death 'suspicious'
"Her body was taken to the coroner's office for a post-mortem investigation and they still need to do further tests," Toronto police spokesman Pc Tony Vella said on CBC News.
"We'll have a better understanding once we get the results back if it's a homicide or not."
He said the death was classified as "suspicious".
Ms Liu was found dead in her basement flat in a multi-unit house on Friday morning after a Chinese consulate official who had been alerted to a problem by the victim's mother contacted police.
No substantial trauma was evident, and investigators were to take samples of her blood, police said. She was found naked from the waist down, officers said, but no obvious signs of sexual assault were reported.
Police have found a cell phone in Ms Liu's basement apartment they think belongs to the man. Her IBM laptop was missing.
The friend in China described the man to investigators. Police have identified a person of interest and are seeking to question him, the Globe and Mail newspaper reported.