Jail inmate shoots Texas sheriff's deputy to death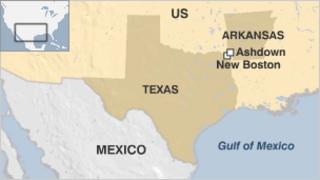 A jail inmate shot and killed a Texas sheriff's deputy with her own gun before escaping, officials have said.
Tucker Strickland, 21, overpowered Sherri Jones, 54, while she was escorting him through the basement of the Bowie County courthouse in New Boston on Monday, police said.
He escaped in a jail van but was caught about 30 miles (45 km) away across state lines in Ashdown, Arkansas.
Texas authorities were preparing to charge him with capital murder.
Strickland had recently been found mentally incompetent to stand trial on a domestic violence charge, the Texarkana Gazette newspaper reported.
Jones, a part-time officer, had worked for the department for six years. She was pronounced dead at the scene.