Oil spill in Canada's Alberta 'biggest in 35 years'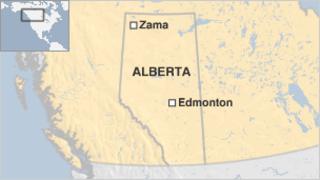 A major oil pipeline leak in Alberta, Canada, is the largest the region has seen in 35 years, officials say.
Around 28,000 barrels of oil have spilled from a rupture in the Plains Midstream Canada Rainbow pipeline in northern Alberta.
Most of the oil has been contained near the spill, but some has seeped into wetlands near the site, regulators say.
The cause of the breach is under investigation, and its operator said it expected to complete repairs this week.
The Rainbow pipeline, owned by Plains All American, carried about 187,000 barrels of oil a day in 2010 from Zama in north-west Alberta some 480 miles (770km) south to Edmonton.
The leak occurred about 60 miles north-east of Peace River.
This is the second major spill from the Rainbow pipeline, which was built in 1965 and has the capacity to carry 220,000 barrels a day.
The leak was discovered by pipeline employees on 29 April. Initial estimates put the spill at a few hundred barrels.