Canada sends troops to aid Quebec flood victims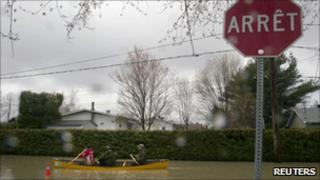 The Canadian military has deployed 600 soldiers to aid victims of a flood in Quebec, after the Quebec premier asked for assistance.
More than 3,000 homes in the Richelieu valley are flooded, the CBC reported.
The troops will protect municipal infrastructure, access roads and private homes, the Department of National Defence said.
In the hard-hit town of St-Jean-sur-Richelieu, the water had reached 3ft (90cm) deep, the town's mayor said.
The flooding is the worst in 150 years, officials have said.
"Basically, we'll be filling out sandbags, distributing whether food or water, protecting any infrastructure, or if requested, evacuating people," said Lt Julien Beauchamp-Laliberte told the CBC.
The floodwater came from the Richelieu River and Lake Champlain, where the water had hit a record level, a spokesperson for Quebec's public safety department told the Montreal Gazette.
On Wednesday, the Richelieu River had risen 1.2m above its normal level, with more rain forecast, the CBC reported.
In the US, the Mississippi River valley is contending with record flooding amid the spring thaw.