Bin Laden's death and the US war in Afghanistan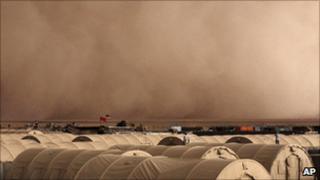 The US may have killed Osama Bin Laden, but the US remains engaged in a war in Afghanistan arguably provoked by the dead al-Qaeda leader. In Washington, the BBC's Paul Adams suggests the killing may present a moment of reckoning in that long conflict.
As the wild celebrations of Sunday night gave way to the silent tributes of Thursday morning, a host of questions began to form around the death of America's most wanted man.
One of them was pithily summed up by the chairman of the Senate foreign relations committee, John Kerry, to open a hearing on Tuesday.
"With the death of Bin Laden, some people are sure to ask, why don't we just pack up and leave Afghanistan?" he said.
The solemn ceremonies at Ground Zero and the Pentagon create an unmistakable sense that this week marks some kind of milestone - and perhaps a chance for a rethink.
"It's inevitable," says Kurt Volker, senior fellow of the Center for Transatlantic Relations at Johns Hopkins University, "because of the undercurrent that will go on in the US about drawing a close to the chapter of the 'war on terror'."
Exit pressure
Mr Volker, a former US ambassador to Nato, says the sense of war-weariness is understandable, but he also sees a "broad-based sense that Afghanistan has not gotten better".
At the Senate hearing on Tuesday, Anne-Marie Slaughter, former director of policy planning at the US state department, sounded optimistic.
"We should now mark this moment as the beginning of the end, a moment that allows us to pivot toward a comprehensive political settlement that will bring security and stability to Afghanistan and greater security to Pakistan," she told lawmakers.
But of all the areas of questioning raised by Bin Laden's killing, America's relationship with Pakistan, a vital if uncertain ally in the war in Afghanistan, is perhaps the one that gives American leaders the greatest pause for thought.
Richard Shultz, a professor of international politics at Tufts University, says it is inconceivable that Pakistani authorities did not know Bin Laden was hiding in their midst.
Relationship rethink
And that, he says, should send an urgent message to leaders in Washington and Islamabad.
"It tells us that we need to rethink that relationship, and if it's possible to rebuild it... on a firmer foundation than exists now."
Meanwhile, President Barack Obama intends to start a modest withdrawal of troops from Afghanistan this summer.
The death of Bin Laden may add to the political pressure to speed that process up. After all, the very reason America went into this long war a decade ago has all but evaporated.
"Afghanistan no longer represents a significant global terrorist threat," Richard Haass, of the Council on Foreign Relations think tank, told members of the Senate foreign relations committee on Tuesday.
"And certainly no more of one than several other countries, most notably Pakistan, in the region."
'Slain dragon'
Or, further afield, Yemen. Or even home-grown radicals here in the US.
In a world of disparate threats, many wonder whether it make sense to have 90,000 troops in Afghanistan at a cost of billions of dollars a year.
Whatever decisions are taken, Mr Volker says the US this week has at least slain a mental dragon.
"We have been mesmerised by the idea of a monolithic terrorist threat for a decade," he says.
"If you go back and think over 10 years where that has driven us - to the war in Afghanistan, the war in Iraq, the continued war on terrorism, Guantanamo - this is an opportunity to get out of that."
Mr Obama is not about to walk away from the war in Afghanistan just because the man who arguably started it is dead.
But 30 to 50 US soldiers are killed there every month, and there is a widespread feeling here in Washington that this would be a good moment for everyone involved to take stock.