US election 2012: Key Republicans sit out debate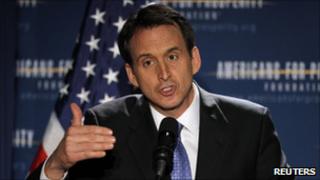 The first debate on the road to the Republican 2012 presidential nomination has been held, with most key potential candidates absent from the stage.
The five contenders used the event in South Carolina to show their credentials and criticise President Barack Obama's policies.
Among them, ex-Minnesota Governor Tim Pawlenty is the only one considered to have a strong chance at the candidacy.
While Mr Obama is seen as vulnerable, the field has been slow to take shape.
The debate - hosted by the South Carolina Republican Party and broadcast on the Fox TV network - included Mr Pawlenty, former New Mexico Governor Gary Johnson, former Pennsylvania Senator Rick Santorum, Congressman Ron Paul and former pizza restaurant magnate Herman Cain.
Tea Party role
The debate was overshadowed by the killing of Osama Bin Laden by US forces on Monday - a mission authorised by President Barack Obama.
"A good job. I tip my cap to him at the moment," Mr Pawlenty said, while adding: "That moment is not the sum total of America's foreign policy".
Mr Santorum called President Obama's foreign policy "a continuation of Bush policies".
The five candidates used the televised debate to also attack Mr Obama on the economy and health care.
A string of well-known potential contenders sat out the debate.
They include former Alaska Governor and 2008 vice-presidential candidate Sarah Palin, former Arkansas Governor Mike Huckabee and former Massachusetts Governor Mitt Romney.
Newt Gingrich, a former speaker of the House of Representatives, Indiana Governor Mitch Daniels, Congresswoman Michele Bachmann, real estate magnate Donald Trump and former Ambassador to China Jon Huntsman also did not attend.
Mr Obama's poll numbers indicate he is vulnerable, owing in large part to the poor state of the US economy.
But a host of factors have left leading Republicans shy of jumping into the campaign, analysts say.
They include the uncertain role of the populist Tea Party, the consolidation of power among hard-right conservative Republicans and the perceived weakness of would-be front-runner Mr Romney.
Mr Obama's fund-raising prowess is also seen as a factor dissuading potential opponents.
By contrast, in May 2007 - when both Republican and Democratic nominations were open - a South Carolina Republican debate included two sitting senators, four former governors, three US congressmen, and a former New York City mayor.
The first balloting of the 2012 primary campaign will be the Iowa caucus on 6 February 2012.
Meanwhile, the Associated Press, America's most wide-reaching news agency, boycotted Thursday's debate to protest against the Fox News channel's restrictions on coverage by its photographers.