Nicolas Cage will not face criminal charges - lawyer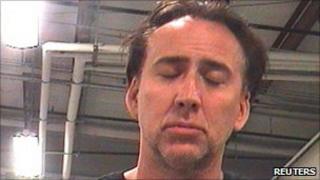 Actor Nicolas Cage will not face criminal charges over his arrest last month in New Orleans, his lawyer says.
Mr Cage was booked on multiple charges on 16 April after an argument with his wife. He was freed on $11,000 bond.
His lawyer, Harry Rosenberg, said that the Orleans Parish district attorney's office had refused the charges and that Mr Cage would not be prosecuted.
The district attorney's spokesman said prosecutors had decided "the conduct did not amount to criminal conduct".
"We are pleased that the process led to the correct result, despite the inaccurate media reports, and that Nick has been cleared and all charges have been dropped," Mr Rosenberg said.
Statements from the New Orleans police said Mr Cage was arrested in the French Quarter and charged with domestic abuse, public drunkenness and disturbing the peace, after grabbing his wife's arm and pounding on cars during the argument.
Mr Cage won the 1995 best actor Oscar for Leaving Las Vegas, in which he played an alcoholic with a death wish.