Canada court denies Khadr terror extradition appeal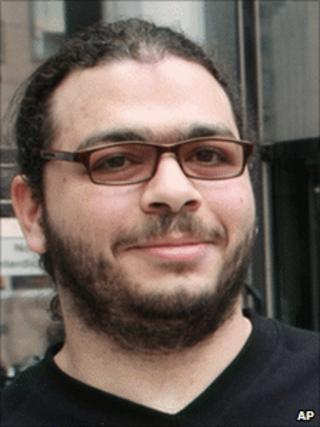 A Toronto court has denied an appeal by the Canadian government to extradite to the US a man accused of supplying weapons to al-Qaeda.
Abdullah Khadr was arrested in Canada in 2005 at the request of US officials but freed last year after a judge refused to extradite him.
An Ontario Court of Appeal panel backed that judge's ruling on Friday.
Lawyers for Mr Khadr say statements he made in Pakistan used in the US case against him were the result of torture.
Superior Court Judge Christopher Speyer released Mr Khadr in the summer of 2010 after ruling that those statements were "manifestly unreliable".
At the time, he described Mr Khadr's treatment by the US and Pakistan as "both shocking and unjustifiable".
The federal government argued in its appeal that Judge Speyer had gone beyond his jurisdiction in making that ruling.
But the appeal court panel dismissed that argument and backed the judge's decision not to hand Mr Khadr to the US.
Grenades
Mr Khadr was arrested in Pakistan in October 2004 after the CIA offered Pakistani authorities a $500,000 (£314,000) bounty.
The US accused him of procuring weapons, including mine components and rocket-propelled grenades, for al-Qaeda to use against coalition forces in Afghanistan.
He returned to Canada after about a year in Pakistani custody, and in December 2005 was arrested by the Royal Canadian Mounted Police at the request of the US.
He is the elder brother of Omar Khadr, the only Westerner held at the US prison camp in Guantanamo Bay, Cuba.